Day 0 + 1
Finally the day when I would leave to Texas had arrived! As per usual on days before the flight, I did not get any sleep. Since the flight would not take off until 10:50pm, I had decided several weeks ago I would work in the morning instead. I've already had a pretty bad sleeping schedule to begin so I don't think I would have been able to wake up early even if I wanted to.
Ironically, despite the month of June and the few days following up to the day of the flight having progressed quickly, the morning dragged on to an almost torturing pace. I suppose it's because of the fact it was really only the day of the flight the idea of going to Texas had finally sunk in.
I had originally intended on staying in the store until 4pm, however my father was insistent that I leave right around 2pm. It probably had to do with him possibly feeling a little bad with me working in the store on the day I would be leaving. I never thought too much of it as the plane would depart at 10:50pm anyway. How else would I spend my day waiting? Nevertheless, I did what I could to make it as easy as I could before heading back home.
After I had arrived back home, I went about trying to figure out what else I would need to pack for the trip. When I felt satisfied with what I had, I proceeded to lazing around. As a result, I accidentally took a bit of a nap but managed to wake up within an hour. It was right around that time I had gotten a message from Leyzee saying she and her husband would pick me up at 7:30. Now that I had a good time of reference as to exactly when they'd be arriving, I asked my mother for help when packaging kimchi to give Nightmaren.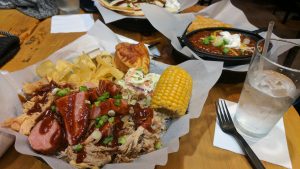 As a Alaska Airlines Visa card holder, I get one checked baggage for free. With that knowledge, I was going to take advantage of the benefit and use it to bring the kimchi with me. Upon arriving at the airport, I went in to see if I could put the package of kimchi through checked-in bagged. The lines seemed like it would take a while so I hopped onto a terminal hoping I could avoid the line. I had followed the process on the terminal just fine, however I still got charged. In the end, I still had to go wait in line to get the mess sorted out. Thankfully it was not too much of a hassle and it took very little time.
Considering it had been quite some time since the two of us had something to eat, Leyzee and I went to search for something to eat after going through the TSA. While the food court had a lot of familiar names, we were looking for something that would really fill our stomachs as the flight would be a long one. We finally came across a restaurant called Bigfoot Food and Spirits. While the menu did seem to carry rather pricey items, I figured it would still be for the best if we were to at least get a fulfilling dinner.
As it turns out, the restaurant was actually really good! Due to having become familiar with "Seattle prices", we had not expected too much for the price we would pay for our food. It could not have been farther from the truth. Shortly after putting in our order, not only did we get our food fairly quickly, we got a lot. It was surprising and we had grown concerned as we had also ordered one extra item in case there would not be enough food.
Despite our best efforts, we were unable to finish everything. Nevertheless, we were pleasantly surprised with the quantity and quality of food we had received. We had left agreeing it would most likely be a restaurant we'll visit again if we are to find ourselves in a situation to travel again in the future.
I had personally never been able to find myself feeling comfortable riding the airplane. This flight was no exception. Both Leyzee and I were hoping we'd be able to catch up on some sleep during the ride, however it proved to simply be impossible. After trying twice, I gave up and kept myself busy with a game of Sudoku on my phone. After what felt like years, we had finally landed and both of us were excited to finally stretch our legs.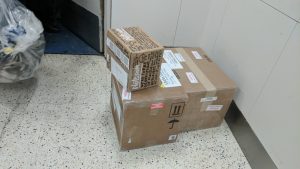 I went to the baggage claim to pick up the box of kimchi I had checked in. I had waited rather patiently as I watched each bag drop down the chute. After a considerable amount of time, the chute had ceased sending down bags. It did not take long before I grew concerned and started assuming they had lost my package. Just before the moment where I was about to sensory overload and throw a hissy fit, I heard a door open and saw a guy place down a couple things: one, of which, was my kimchi box!
Once I had retrieved my package, I sent a text to Nightmaren saying we got what we needed. Apparently Nightmaren had been waiting for a while and was already waiting to pick us up. Once I got a text back telling me where the car was parked, we left towards the terminal where Nightmaren was waiting. When we finally exited the terminal Nightmaren was waiting near, I looked around and quickly found the car. As I headed towards the vehicle, I noticed something so sinister, so vile, so evil that I froze…
THE HORSE MASK
I quickly turned away to escape (all the while Leyzee is giving me the most confused look). With what seemed like an eternity and a half of contemplating (just 1 second), I turned back around to face the ultimate fear of mankind. It got worse.
When I approached, the face of death stared deeply into my eyes and began the dance of death (with vocal finale of Beethoven's Ode to Joy, of course). Upon finishing its dance, the possessed being took off the mask, regained consciousness, and allowed Leyzee and me to place our bags into the back trunk.
Nightmaren then took us around Sugar Land since we needed to wait before we would be able to check in. We drove around quite a bit taking a look at some of the places Nightmaren is usually familiar with. We even got to see the drowning horse and we paid our respects.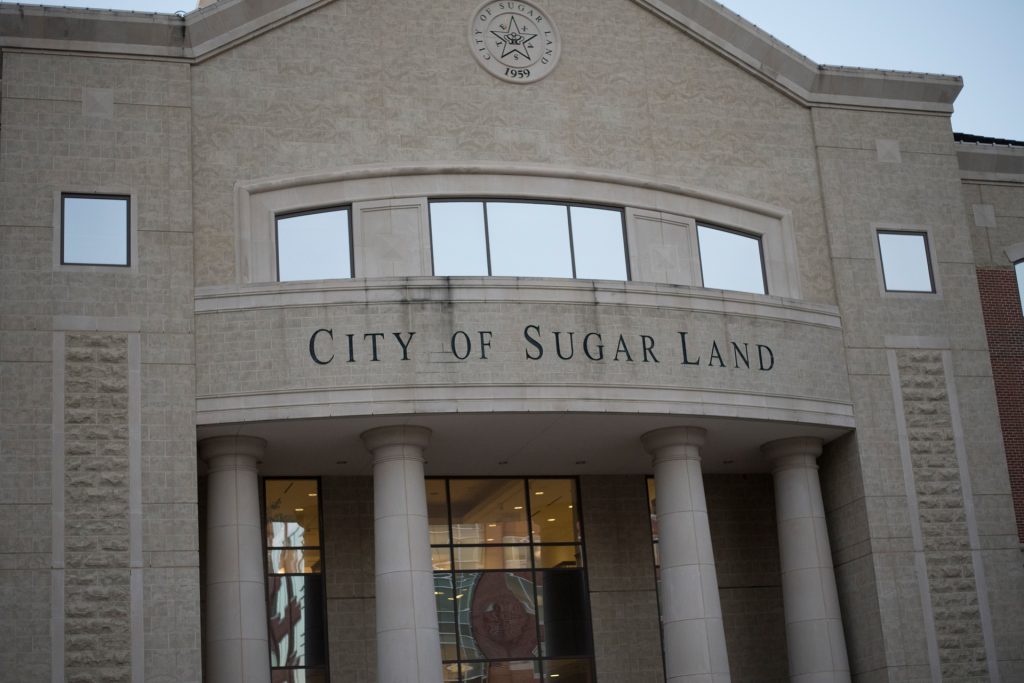 Before we had arrived at the Sugar Land Center area, Nightmaren had begun giving us suggestions on where to eat. The moment Nightmaren mentioned a restaurant called Jupiter had waffles, both Leyzee and I were sold. The only problem was it would not open until 11am (we had arrived in the area around 6:30). Nevertheless, we were fully determined to eat at Jupiter and willing to kill time until it was open.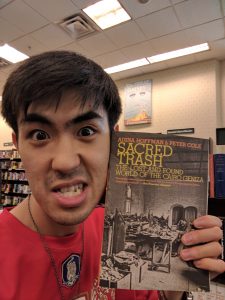 We had gone to the mall that was close by hoping to pass the time there… however that too would end up being getting there a bit too early as the mall would not open until 9am. So instead, we went to a place nearby called Oyster Creek Park and walked around a bit. It was really interesting just how different a park can feel in different places. The bushes looked different, there were actually turtles in the creeks,  and most noticeably at all, there were cicadas chirping everywhere. Before we had entered, Nightmaren had mentioned on certain days (especially during rainy ones), alligators will often come out. It had even warned visitors to be wary of alligators. Thankfully (though kind of disappointingly) none were around.
Some time would pass before we would head back to the mall and went inside the Barnes and Noble that was nearby to take shelter from the humid weather. We managed to cool off a bit and enjoyed looking around the book store. Since all three of us had not gone into a book store in a very long time, it felt as though much of its merchandise had changed a lot. Though, of course, there were several classics that would pop up such as George Orwell's 1984. I actually ended up purchasing the book hoping that it would prove a good read on the plane back home.
Finally when the time had come, we went inside the mall to have a look around. Hilariously though as we were walking around, Nightmaren was trying to think of a good way of describing the mall's layout and opted to refer it as something similar to a fidget spinner. What was perhaps more upsetting was just how accurate of a description it was! Thanks to the mall though, we actually managed to pass the time extremely quickly and 11am came around much faster than I had anticipated it would. As such, we left at a time where we would be able to arrive at Jupiter shortly after it would open. Even though Leyzee and I were feeling quite dead from the lack of sleep, we were really excited to try out the restaurant.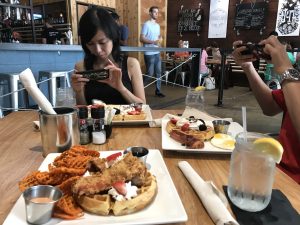 Jupiter was absolutely amazing! It was an interesting type of restaurant where they served southern style waffles (including the classic waffle and chicken), pizza, and other small dishes. They even had a bar available to be seated at. The dish I got was called "The gold member". It was a simple one where it had a waffle, some fruits, and two poached eggs. While the combo was a nice surprise, I began to wonder if I could have enjoyed my meal more as I watched Nightmaren eat the chicken and waffle combo.
Prior to the trip, I had called the inn to see when was the earliest time I could check-in. Initially I was told 1pm, but I decided to call again to see if there was a possibility of checking in earlier. While the receptionist could not give me a guaranteed time, I was told that as long as we call right around 11am, he could see if there were rooms available. By the time we had finished eating at Jupiter, it was half past 11am so I gave the inn a call. Thankfully there was a room that was available. Nightmaren quickly took us to the inn and we were finally able to drop off our luggage. We lounged around a bit until around 2 o'clock just chatting and catching up… whilst also getting the energy to go back out.
Now slightly rejuvenated, we went to finally go visit the medical center! One of the first places we visited was the nursing school Nightmaren had attended. Hilariously the guard that was on duty, of all days, happened to be the one that would always be on Nightmaren's case about everything. Thankfully Dr. Hanneman was actually in the school giving Nightmaren a good enough excuse to enter (and allow us as well). Before we even managed to get to Dr. Hanneman's floor, we bumped into her. Even if I was sleep deprived at that point, it was clear why Dr. Hanneman was considered to be legend from the exchange she had with Nightmaren. She really had some chipper energy for her age too (though Nightmaren attributed that to the fact she may have just recently woke up). We also got to meet some of Nightmaren's peers whom also proved to be interesting to chat with! Turns out one of them used to live in Seattle so it was pretty cool to talk to someone who actually knew where both Leyzee and I lived.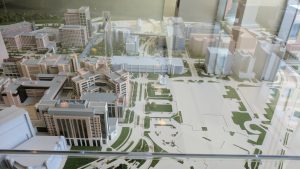 I knew the medical center was huge, but man you can only really understand when you're there in person. The weirder thing is just knowing that we barely covered a part of the center. We went around mostly the areas Nightmaren frequented along with visiting the hospital Nightmaren would be working at.
I felt kinda bad since I was walking around like a zombie. I had been without sleep for so long, I felt like I was going to pass out while walking… something I had never experienced before. Though granted, I had been without sleep much longer than I ever had before (approximately over 40 hours with 3 hours worth of napping). Nevertheless, I still enjoyed the experience while we were at the medical center!
After we had finished touring around the center, we decided to crash back at the hotel. We contemplated where to eat dinner until Nightmaren brought up Uber Eats. I don't think I've ever been as thankful for the existence of the service until up to that point. It made it much more comfortable and helped us in the long run.
It would be a couple hours before Nightmaren decided to head back home. When Leyzee went to take a shower, I had just knocked out due to how sleepy I was. I don't think I had ever slept at 8pm but hey, it was worth staying up! I was definitely ready to experience the next day full of energy!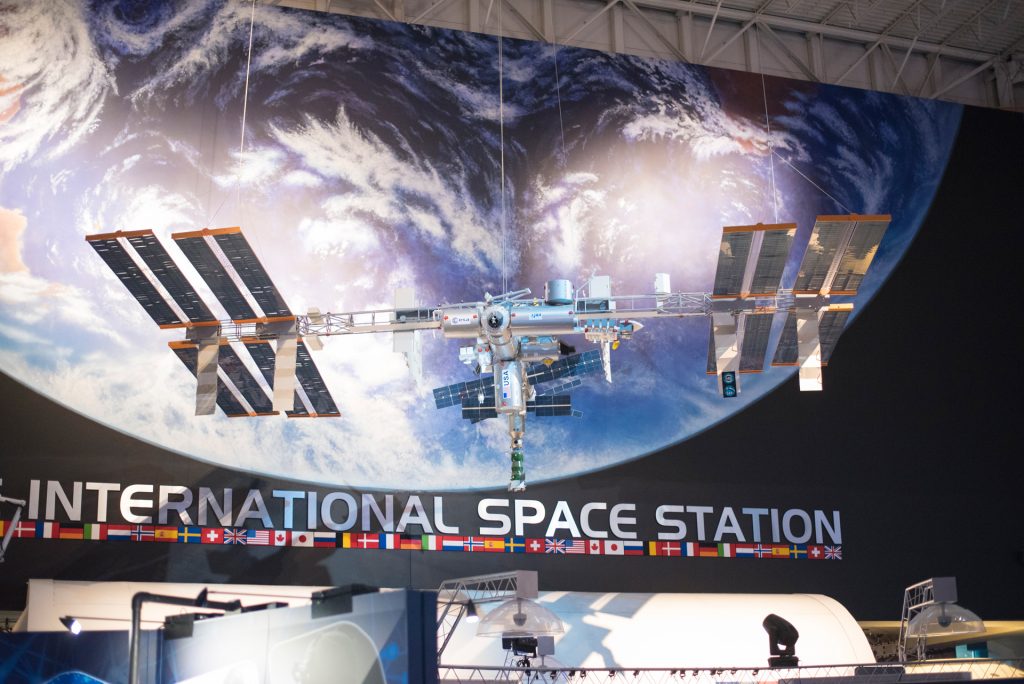 Day 2
4am, I woke up at 4am. Just like every other time I'm out traveling, I wake up utterly confused as to why I'm seeing an entirely new scenery. Not only that, I'm awake at an impossibly early time. However I did apparently just DEDDED the moment Nightmaren left the room last night. I actually had woken up earlier around midnight. That was when I realized I had fell asleep so quickly. I also remember bringing out my phone to see there had been some chat logs in the Discord Group DM with Leyzee laughing about how I had "dedded". After a small chuckle, I went under the covers this time to sleep for another four hours only to be confused yet again upon waking up. Leyzee had actually woken up around the same time so we ended up chatting.
It was kind of a surreal feeling having woken up so early in the morning. Like most hotels, the Quality Inn offered breakfast at 6:30am~9:30am. Most of the time I would wake up too late to take advantage of the breakfast. This time I woke up far earlier than usual for it. I was thankful Leyzee had woken up around the same time I did. It would have proven to be quite a long wait for what I thought was going to be a mediocre breakfast. For what it was worth, it was actually good! I actually ate a lot of the food and was fairly satisfied with everything they provided… except for the bagel. The damn bagel was way too hard and the cream cheese was extremely bland. At least everything else had made up for it.
We had planned the day before to have everyone meet up in the hotel at 10am as that would make it easier for everyone. Nightmaren had actually came in earlier to hang out a bit and catch up a bit further with us now fully rested. It wouldn't take long before (male) Charlie and Linh would finally arrive. It was then we finally went to the Space Center!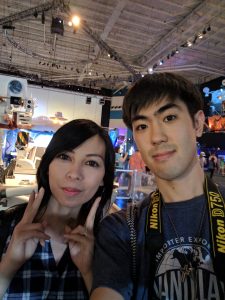 Some of my friends might know that I can, at times, have an infatuation with space. The Space Center had a lot to see and it was just really cool to be in an area where it showcased a lot of mankind's achievements and how they intend to improve on top of their achievements. Plus being able to generally be with people I have been friends with forever added to the experience!
Later, Leyzee and I had actually done some shopping and getting souvenirs for family back home. It was kind of funny as we later discovered there were actually two different shops… so we shopped two separate times.
When we first came around the tram tour, we held off on it thinking we wouldn't have to worry about waiting to get in line. That was around 11 o'clock. By the time we had finished looking around, we went back to the line only to find the line grew incredibly fast. When we had lined up, one of the staff members had said it'd be an hour long wait. We shrugged it off as the line had appeared to be moving rather quickly… we were terribly wrong. It extended far beyond the door where the line stretched out even further. Despite having to wait outside, we were at least graced with several large fans blowing towards the crowd (and we were waiting underneath shade areas). When we finally were able to take part of the tram tour, we really enjoyed ourselves! There were several stops where one could hop off and tour around the building as well. It was intriguing to take a glimpse of NASA's working environment.
The tram tour would eventually reach an end and we decided to wander around one last time and explore the one section we had yet to go through in the Space Center. When we felt we had satisfactorily completed our run around of the Space Center, we left in search of food. Nightmaren suggested a taco place that wasn't too far away.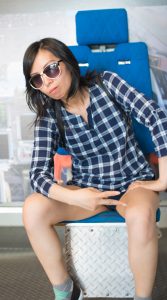 We ended up going to a restaurant called Torchie's Tacos and they were really good! I was just a little upset as they had taken a while to make my food. Nightmaren and Charlie, who had ordered before me, had gotten their food really fast. After about five minutes, I finally went up to see if they would make my food. Turns out they literally just forgot and passed over my order. Bastards! It was still really good though… despite me getting "The Trailer Park" and specifically asking to "make it trashy" (which all it does is cover your tacos in melted quesos).
After we had finished eating, we went back to the hotel Leyzee and I were staying at. Although it was not the most "exciting" of ways to enjoy the day, we "dunned" for a while playing some games on Charlie's Nintendo Switch, sitting around chatting, and generally laughing at how quickly Linh fell asleep.
Since we still had a bit of time on our hands, we began discussing on what we should do to finish the day. Outside, we could see a storm was beginning to brew in the distance so we ruled out anything that involved being outside. By the time it was around 8 o'clock, we simply decided to just go to the movies. We decided on Spider-Man: Homecoming.
With the movie ended and midnight coming closer, we broke off to get some sleep in order to prepare for the next day.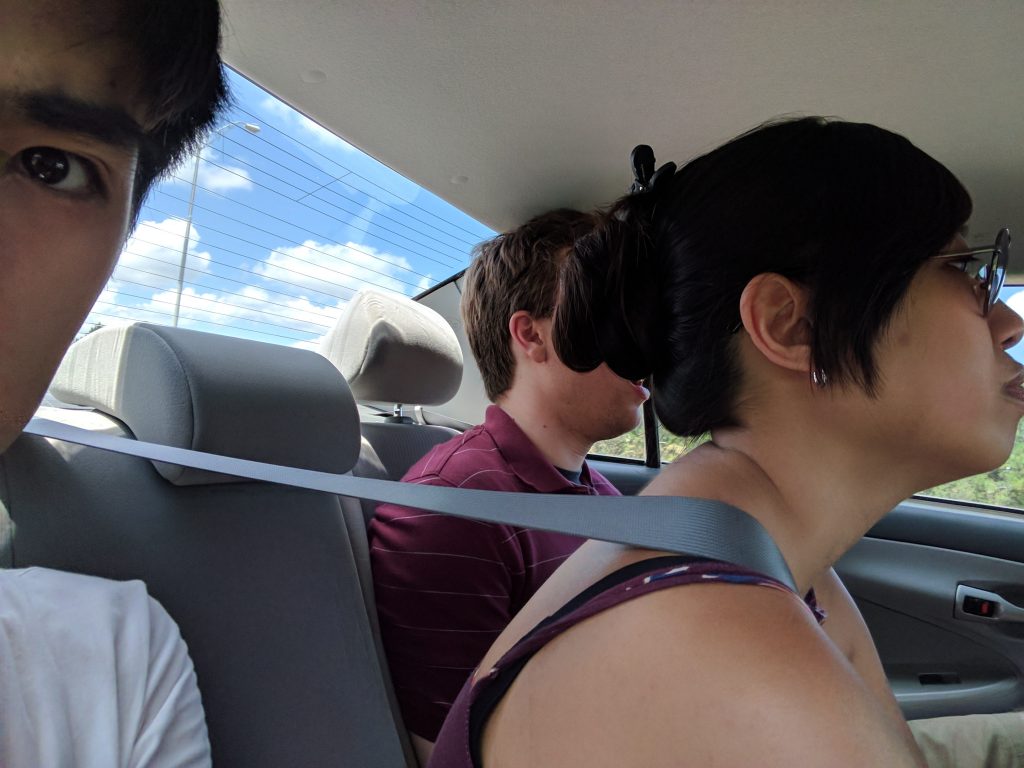 Day 3
This time, Leyzee and I were unable to wake up in time for the free breakfast. Well, that's not entirely true. I had woken up around 8:45am and thought about waking Leyzee up, but I knew she would still be tired so I let her be. Perhaps it was due to the fact we slept fairly late just chatting away. The night before, we were far too sleep deprived to even talk.
As we began prepping up in the morning, I had received a text from Nightmaren with an update on everyone's status. Thankfully they were going to be arriving a bit later than anticipated so we were able to get comfortably ready before they would arrive. Then I finally got another text saying they were at the hotel. Assuming they were outside of the hotel building, I was about to jog out the door until I noticed they were already in front of my room.
"How the heck did you get inside?"
"I just opened the door…?"
"HOW?! IT'S SUPPOSED TO BE LOCKED 24 HOURS A DAY!!"
Turns out it's not.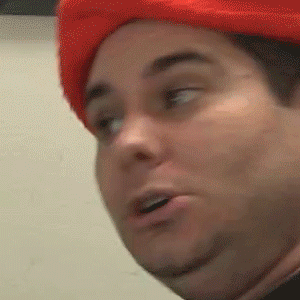 One of the places we had planned on visiting was Hermann Park. It was a really nice, scenic area that I definitely would not have minded staying around. Of course, since this was around 11 in the morning, I was able to bear with the humidity for a while. It wouldn't take long before it got too much ahaha.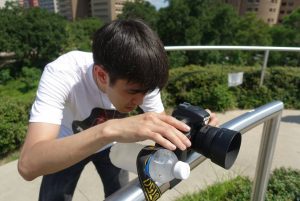 There was this mound in the park that spiral upward to a little spot where you could see a large majority of the park. I thought it would be the perfect spot to take a group picture of all of us… however I had no tripod with me. So here I was, trying to come up with some way to have the camera placed in a way where it can take a picture without it being too low. Thankfully someone else came up and was kind enough to take the picture for me.
After about another half an hour later, it got far too hot for almost any of us to comfortably stay outside. Nightmaren then decided it would be a good time to go to the underground tunnel and see what it was all about!
Unfortunately the mall and the food courts were all closed since it was a Sunday. Nightmaren never really visited it much and had assumed it was open. It was rather unfortunate but we were determined to at least do a few more things before Linh and Charlie would eventually have to go back to Dallas. So instead, we went to Tea Bar.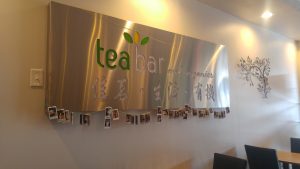 Apparently, in the area of Houston at least, there are a lot of small cafes that are either called "Tea Bar" or "Tea House". As the name would suggest, they often provide a variety of tea and some food. The one we went to was called Tea Bar and Organics in Rice Village which also served sushi. Since it was still really hot outside, I decided to finally go for something different and tried the orange oolong milk tea. I was quite surprised as it wasn't as incredibly sweet as I thought it would be! I also pigged out a bit by eating both a Poke Bowl and a caterpillar roll.
Since Dallas was a long drive, we all went back to the hotel so we could drop Linh and Charlie off to their car (as we had carpooled). Despite having really only being around them for a very short time, I really do enjoy their company. I definitely look forward to seeing them again. Though I'm sure one of them would be much better off not seeing me ever again. Teh heh heh
We still had a considerable amount of time to spend so we hung around the room just chatting away. Nightmaren had suggested visiting a place called Boardwalk and we both agreed to head on over there. I had honestly thought it was another park considering its name, however I was completely wrong. Nightmaren had meant Kemah Boardwalk, an amusement park. With the park being so close to the gulf, it was extremely humid. There were some breezes, but it felt as though it were adding on to the humidity. Despite the heat and humidity, it was fun walking around and just hanging out.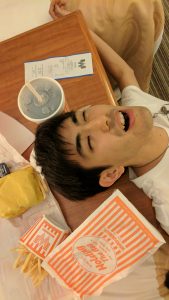 Being out there in Boardwalk hanging out with Nightmaren felt so… normal. Yet when I take the time to really examine the situation, this is really only the third time I've gone to Texas and hung out with Nightmaren. I've really only been able to meet Nightmaren in person perhaps barely around 10 days out of the 7 years we've known each other. Regardless of this fact, the few days we spent in Texas felt just as natural as though we had originally met in person. Certainly a surreal feeling when meeting up with online friends.
Several hours would pass before we would decide we've spent enough time in the amusement park. On the way back to the hotel, we decided to go to Whataburger as we had not yet eaten dinner. We also figured it would be a good way to try out something that originated in Texas. Plus we were beginning to grow tired and did not feel like dining in.
Similar to other nights, we chatted the night away, and again congratulating Nightmaren on having obtained a job in a respectable hospital! Time would pass before Nightmaren would have to go back home to sleep. Since this was the night before we would leave, Leyzee and I began preparing our luggage. Although this would be the last night we would spend in Texas, I knew there would be a next time, just like always. Perhaps in another three years? That is, if the pattern keeps up. For now, there's just one more day for us to enjoy this little vacation!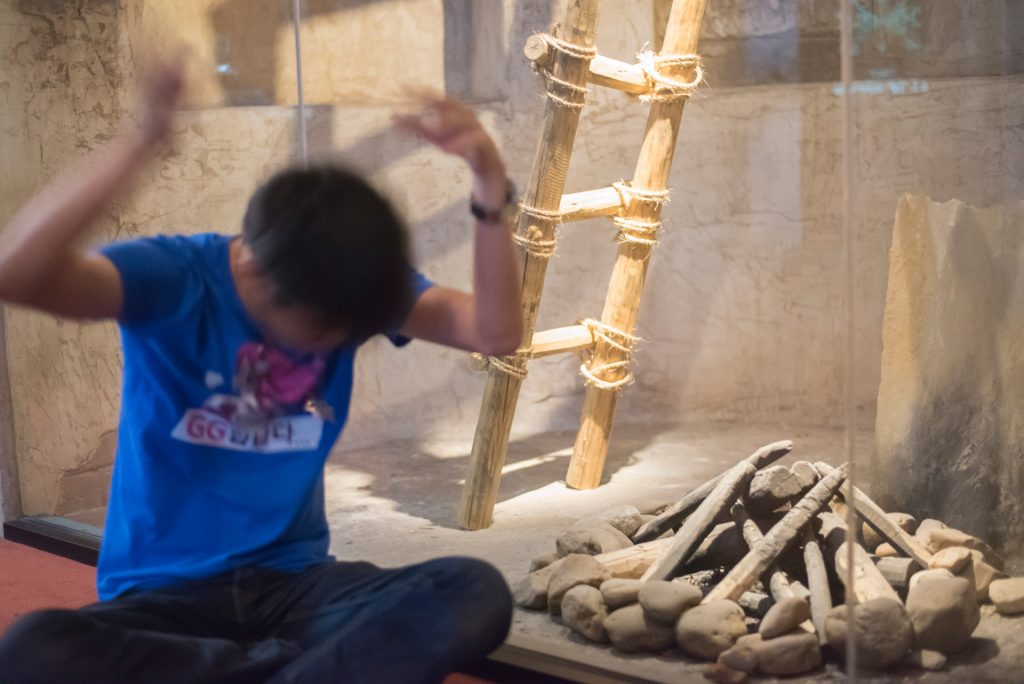 Day 4
Considering the fact that we had slept right around 11pm, it was only natural I would be able to wake up around at 7am. Nevertheless, it was a time frame I had never once considered I would be able to do so effortlessly, even upon sleeping early. Perhaps the lack of sleep from last week is what helped allow me to do so and effectively resetting my sleep schedule.
At the time, Leyzee was still sleeping and I had considered whether or not to wake her up, however I decided to let her sleep some more. Figured she may have been tired as she had mentioned not being able to find a comfortable position while sleeping for the last couple of nights.
By the time it was 8am, I made the decision to take advantage of the complimentary breakfast. I tapped on my friend's shoulder asking if she wanted anything while I was in the lobby. After being told to simply bring a muffin, I quickly left to eat.We did have plans on going to Jupiter one last time so I tried to eat a little bit less than usual… however I still ended up making a waffle.
Upon arriving back at our room, I brought over the muffin along with yogurt just in case Leyzee wanted something else. It was still early in the morning and just like the days prior, we had agreed to meet up at our place at 10am. Unfortunately Nightmaren had to take care of a few problems that had risen at home, however it thankfully allowed me some time to digest the food I had recently consumed.
I received a text message telling me Nightmaren had arrived. As soon as I had replied we were heading down, I got our bags and opened the door only to immediately be greeted with a "Hello."
Slightly startled, I refocused my eyes to see it was simply Nightmaren waiting at our door.
I keep constantly forgetting the door to the building is not locked…
"Now I can startle you this way instead!"
Nightmaren was referring to how I would be started by the sudden entrance in Discord voice channels. We would often use the mobile version when we would use voice chat and for whatever reason, the mobile versions never give an audio notification of one's entrance.
After I mentioned my grievances of Nightmaren's recent talent of being able to startle me, I went out to go to the front desk to begin the check out process. Once finished, we would go out to finally eat at Jupiter so I can try the chicken and waffles!
… Except they were closed.
"What?!"
Nightmaren and I had exclaimed upon seeing a dark restaurant. We looked at the hours that were presented next to the door to read that they were closed on Mondays. This was a familiar experience that had happened the last time I was in Texas.
"God. Even though the museums here are open daily, the ONE place we wanted to go to is closed! Practically reliving the horror of the last time I was here in Texas!!"
I exclaimed with much horror and sadness wondering if I'd ever be able to taste the unique flavor Jupiter had offered.
Perhaps I really should try to open a restaurant similar to Jupiter in Washington.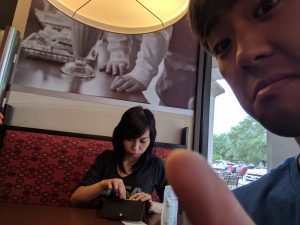 We had passed by a restaurant called Smash Burger earlier and it had been recommended once before when we had been discussing about Texas exclusive places. Thankfully that restaurant was open and we were able to at least eat lunch there.
Despite its name, the Texas franchise had a rather comfortable atmosphere. I ended up eating the Buffalo Blue burger as the sound of the odd combination seemed appealing at the time. I was surprised when I had gone up to get myself a drink as I had noticed there were slices of lemons available to use. I got myself some unsweetened ice tea so it went perfectly.
The Buffalo Bleu burger was actually pretty impressive! I've always had differing opinions on buffalo sauce as so many of them felt "spicy" for the sake of being spicy. This one had a taste that seemed to be well balanced with the meat and vegetables in the hamburger. Plus the bleu cheese is always nice on occasion. With about three more hours to spare before we would have to head towards the airport, we decided to visit a museum.
Nightmaren had actually given us two different museums to visit. One modern art museum and the Houston Museum of Natural Sciences. Despite being an "artist", I've always felt art museums (unless it had a very specific theme going on) were incredibly boring. Especially with the decline of skill known as "modern art". I feel a lot of what was supposed to  be a testament of one's creativity has slowly been flooded by "art" that needs to be explained in order to be understood. Even worse when said explanation still provides no further insight on what the art is supposed to present.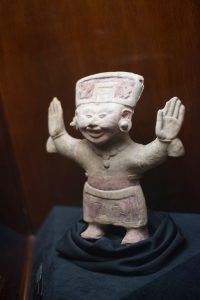 When we arrived at the museum, we were contemplating on which ticket we should get as different ones allowed access to different parts of the museum. While we were trying to decide, the clerk had actually suggested we try out groupon to see if there were cheaper options available. This actually came at a shock as it's not something I would normally expect out of an employee. Nevertheless, we purchased our tickets through groupon which allowed us entrance to another part of the museum, the gladiators. It turned out to be cheaper too!
I often find myself having difficulties trying to explain just how much I enjoy these times I can take the time hanging out with my friends. With two of the best friends I could possibly have at my side, I find myself trying to take as many pictures so I can be reminded of our time together. It's these times I feel are important to treasure.
By the time we had finished browsing the museum, we found out it was just about time to head towards the airport. Seeing this was the third time I've done this, I felt as though this process was normal by now, which in itself was an odd thing. Especially more so it would feel as though nothing has changed, just our means of communication.
Once we were dropped off, I took a bit of my time to say a few embarrassing things but considering the occasion, I felt it was necessary:
"Nightmaren, as embarrassing as it kinda is to say this, I really have to say that you are literally one of the best things that has happened to me in my life. I am honored to have the opportunity to just hang out with you. I could not be more prouder and I certainly wish you the best!"
Of course, Nightmaren had thanked me and perhaps also due to how cheesy it was sounding, shifted to giving hugs to the both of us. It may have been my imagination, but I felt as though this embrace was a bit stronger than the previous ones in the past.
With our salutations out of our way, Leyzee and I went through the doors to finally prepare.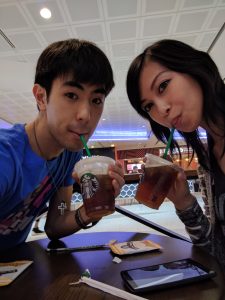 The TSA line was a bit of a shock as it was fairly long. I was concerned thinking we may barely be able to make it to our boarding. After about half an hour, my anxieties were dissolved upon realizing how quickly the lines had moved.
We were able to exit with a little less than an hour to kill. After browsing the gift shop, Leyzee and I went to the one place we were most familiar with… STARBUCKS!
It was actually refreshing to try the shaken ice tea that they provided. I think that would have been my first time in a very long time getting a cold drink from Starbucks. Nevertheless, it helped kill the small amount of time we had left and it was very close to the terminal we were boarding in.
And now here I am in the airplane typing all of this out. Out of all the days, this is the only one I've truly written extensively with more details. Obviously by the time you've read all of this, it will not appear that way. When I first wrote the other days, I only wrote the bare minimum so I would not forget. I did not have the leisure time to really think on how I wanted to write out the days. Plus having read a bit of 1984, I think I finally got that bit of writing inspiration and was able to portray my thoughts in a way I can be happy with.
It's currently 6:32pm PST. The plane is estimated to land around 7:45 which is certainly nice considering it was originally estimated to be 8:13. After my last thoughts, I probably will have either begun editing my other entries or gone back to reading the book. Nevertheless…
A reoccurring thought that would keep coming up was still just how normal it felt to be hanging out with Nightmaren. The only times I would actually "see" Nightmaren would be through Skype chats (which have recently become scarce due to Discord). Even then, we had gotten so used to each other that being physically next to each other just felt like another day. I feel as though I had brought that point up several times in the past, but I still find it such an odd sensation. Or rather, the fact that there were no "odd sensations" was weird.
Having known Nightmaren for nearly seven years had really gotten me to think about all the friends I've managed to keep over the years. The ones that I have managed to consistently maintain and keep really are few in number. The two I can immediately think of are Nightmaren and Leyzee. Having Leyzee (of whom I've known for eight years) really helped make the experience so much more enriching.
It is times like these I can't help but feel slightly "cheesy" and give the whole memory a rosy tone. We took this trip initially to celebrate Nightmaren's graduation. We booked the flight early so we were unsure if Nightmaren would have gotten hired at any hospital by the time we would arrive. As time progressed, the trip evolved into being a celebration of Nightmaren being hired at a prestigious hospital. Then just mere weeks before leaving Washington, we had received news that Nightmaren had gotten into the ICU department (a spot almost no newly graduated student ever gets hired into). Being able to go in person to celebrate such an occasion felt like such a privilege considering how far in leagues that was compared to what Leyzee and I does.
In fact, a couple nights prior, Leyzee and I had been chatting about our experience with Nightmaren's peers in the nursing school. Just from how they had talked, you could tell they had such massive respect for Nightmaren and clearly had equally as massive support for. What was perhaps even more surprising was just how proactive the peers were when considering where I could go with my past experience. I did not expect any "judgmental" behavior from them, however I also did not expect support from seemingly far away people.
That was another topic of discussion between Leyzee and me. We could not help but feel so distant from everyone. What these people were doing, what they were accomplishing, it made us feel so little. I'm not sure how Leyzee managed to come to terms with it, but I found a bit of resolve growing within me. One of Nightmaren's peers had given me a small glimmer of hope of perhaps advancing forward.
For now, I'll focus on goals I honestly believe I can attain. Once I have made my own cafe (and perhaps my own version of Jupiter), I believe I will have the courage it will take for me to move forward and further my education. I'm almost 27 years old and I can't have myself having only "some college education" (and that education being art, of all things) under my belt. Time stops for no one, and that includes myself. I think being able to admit that, I'll be able to walk forward.
Who knew this trip would have helped me? Heh, just further proving how much Nightmaren has helped me change my life for the better. I can only hope I can provide something of value to Nightmaren's life. After all, what's any relationship, whether it be friendship or romantic, if it's only about taking from one another?