Today was finally the day the con would finally conclude. With that in mind, how do you think I spent a majority of my time in con? I waited in lines. Yep!
For the past two years, I've done something different for each con that I go to. I would choose a certain number of guests that were coming to the con and present them with a small gift. One  year, I gave a bottle of hand made paper stars to some of the guests. Another year, I gave bags of candy that were primarily either local or exclusive to America (for the Japanese guests). There were other times I've given guests an exclusive photograph of a figure/nendoroid using cherry blossoms as the base theme (if applicable). This year, I only handed out the photo prints of my toy photography.
The reason why I started the habit of giving stuff to the guests is because I've always been grateful to be able to get their autograph at no cost. Almost every other place, you'd have to pay to get an autograph. Plus it's also my way of being able to thank the guests for giving up their time to socialize with the fans.
Anyway, I actually woke up at 7:40 so I could prepare to leave the room when the time to check out of the hotel would arrive. Meta on the other hand was just dunning around. I suppose the con had gotten him fatigued.
After packing up a bit to help prep for the check out, I took a shower and got ready to put on my "joke" cosplay: Weed Girl (ie, Nadeko Sengoku with the green hair). This was my source of inspiration:
Once I put the cosplay on, I quickly went to put on my contacts and makeup before I would meet up with Leyzee so she could help me put on eyeliner again. Afterwards, I went back to the room to find Meta still just laying around dunning. The weekend had him fairly exhausted and he wanted to recoup for a bit.
As I mentioned, a large majority of the day was spent waiting in line to get autographs. The first person I waited in line for was Erica Mendez. The reason why I chose her was because she was a dub voice actress for Nico Yazawa from Love Live. I was able to get in a nice position in line when the queue started for her line (her session was to start at 10am, so I lined up at 9:30). However when it went a quarter past 10, we all were wondering where the actress was at. Apparently she had misread the schedule and believed the autograph session was to take place at 11am.
At that time, Matthew Mercer was holding his own autograph session as well. Just like last time, the line had capped very quickly leading to several con-goers to be quite upset. A large majority of those who were unable to make the line had immediately started complaining in regards to "bad scheduling", "bad communications", etc. To be fair, I could understand their frustration. This autograph session was supposed to be the last one for the con. However, Mercer had taken notice of the dissatisfaction of his fans and tweeted out he would look into holding another session.
Folks at #Sakuracon, we're looking into setting up a second signing this afternoon, so I will keep you posted!

— Matthew Mercer (@matthewmercer) April 16, 2017

When I finally got to Erica M, I handed her gift. Upon discovering it was for her, Erica's eyes began to light up. For me, it was more worth seeing that reaction than getting the autograph itself!
After the autograph session, I went back to the hotel to get ready to check out since there was a chance I would not be able to do so afterwards. When I got there, I found that Meta was still in the hotel room. The con had gotten to him harder than I thought it would. In any case, I started packing some more before I called for a trolley. Thanks to the gentleman who brought the trolley, we were able to get packed a bit faster than I had anticipated.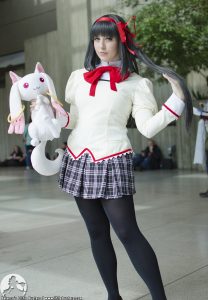 When the trolley was filled with all my belongings, I double check the room to make sure I did not forget anything. Having confirmed we got everything, we went down to the valet area where I asked them to bring the car up to load my luggage. I had to act quickly since I needed to go to the next autograph session for Erica Lindbeck. I wanted her autograph since she was the voice actress of Futaba Sakura from Persona 5. The picture I ended up giving her was an old one of Eli Ayase from Love Live singing into a mic. When I presented the photo print to her, I got just about the same reaction that I had gotten earlier that morning. Even if I said it earlier, I really love seeing the joy grow from their faces when they realize they're being given a gift! It's really the reason why I continued the tradition from two years ago.
About half an hour passed before I actually found Ken. I was able to bump into him pretty quickly since he wanted to get an autograph from Gen Urubuchi. He's well known for writing the Magica Madoka series so Ken was excited to have him sign his Madoka movie bluray set. This autograph session was actually kind of interesting. Instead of one person, it was a set of people. It was because they were all part of one group, Thunderbolt Fantasy (never heard of it myself, personally). I went there because I wanted to get autographs from Gen Urobuchi as well, along with Takanori Aki (president of Good Smile Company) and the two people who helped with the development of Touken Ranbu: Koh Kitaoka (producer in Nitro+) and Digitarou (president of Nitro+).
Around the time I managed to get in front of the line for this autograph session, I noticed a tweet Mercer put out.
Folks at #Sakuracon, we're looking into setting up a second signing this afternoon, so I will keep you posted!

— Matthew Mercer (@matthewmercer) April 16, 2017
My friends had actually been trying to get his autograph throughout the weekend and had been unable to do so until this point. By the time I sent a message to them, they were already getting in line to get his autograph. While waiting in line for the Thunderbolt Fantasy session, I had noticed my friends were already in line for the Matt Mercer autograph session. I was glad enough for them to take a picture and make it the header for this post!
Ken and I had actually been able to get through the line pretty fast so we had some time to walk around the convention center. I used that time to take some last day pictures of cosplayers. I was barely able to take any pictures between the other two autograph sessions so this time I had a bit more leeway to do so.
The last thing I needed to do before heading out was go give Chikashi Kubota (animation director, notably having recently done One Punch Man) his photo print. This was the one person that my friend, Atashi, had been wanting to go get an autograph from. I told her that there was no real need to come super early except for when the line begins to queue (30 minutes prior to schedule). When the time came, she and her friend arrived just shortly before the line would queue and behold, there was almost no one around. As a result, we managed to get very close to the front.
While waiting, Atashi had asked if I was going to get anything signed. Since I didn't have anything that was related to what he did at the time, I said no. Atashi was excited to hear that since she had three storyboard books she had purchased a while back. She figured since I did not have anything I wanted signed, I could ask him to sign one of her storyboard books (while her friend would get the other storyboard signed).
When the line started moving, we noticed it was going pretty slow despite us being close to the front. It had turned out Mr. Kubota was doing quick sketches of characters from shows he had worked on. I then realized he had also done Shinsekai Yori. At that point I was going through a dilemma: I really liked the show Shinsekai Yori and I would have loved a sketch of a character from there on my photobook… however if I did that, there'd literally be just ONE storyboard book Atashi would have unsigned. In the end, it was worth more to have her storyboard signed than for me to get a sketch on the photobook. It wouldn't be as fitting anyway and I would feel pretty bad if there was only one more storyboard book that needed to be signed.
Unfortunately someone had also announced that Kubota would not sign anything One Punch Man related while we were still waiting. We weren't entirely too sure why, but we figured that he had meant any fan art related items since they're usually pretty strict about signing those kind of things. After discussing it a bit, we decided that it should be okay for him to sign the storyboards due to them being official works. If not, we can always ask anyhow. Thankfully it was okay!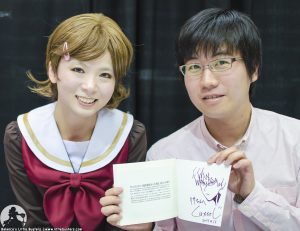 Kubota was rather intrigued when he met Atashi however. Not only did she know a bit of Japanese, but then he sees that one of her friends ask for a signature on a different story board, and then I come up, give him a photo print and ask for yet another storyboard book to be signed. I think at that point, he was overwhelmed and found himself perplexed at the situation in a rather hilarious manner. I don't exactly remember how it came to this point since it happened so fast, but Kubota suddenly asked Atashi to come behind the table and asked if we could take a picture of the two of them with Kubota holding one of the storyboards he signed. Kubota must have really enjoyed that moment as he asked his interpreter to also take a picture with his camera. Atashi had felt slightly embarrassed as some of the people in line behind us (according to her) were glaring at her. Nevertheless, it was a pretty funny situation that probably will remain in Atashi's memories for a long time.
Since Meta's plane was going to take off at 6, the both of us decided that it would be best if we were to leave around 4pm. The autograph session for Kubota started at 3pm and I got out there around 3:30pm. With that in mind, after meeting up with Meta near the entrance of the autograph area, we all said our goodbyes and went out to go home.
The drive from Seattle to the airport really was not bad at all. Managed to get there quickly giving Meta more than enough breathing room to comfortably board the plane. After saying goodbye to him, I too finally went home.
I managed to get home around 4:40ish but it's taken me all the way until midnight to finally finish this post. Was too tired to focus on writing so I ended up cleaning my room a bit, cleaned the dishes, ate dinner, and got to this point. From here on out, it's just the same old same old… except not really since I'll have to deal with editing 1600+ pictures. Hopefully I can save about 300 at the minimum!
Thank you all for staying with me until this point! I hope you had fun reading my experience at Sakura-Con this year and I hope you'll stay with me all the way till next year where I get to do it all over again!