(Note: These entries are written on the night of. So even if they don't reflect on the date these entries are published, it's because they aren't meant to and supposed to be in regards to that specific day. Hopefully that will help avoid confusion as you read this! Enjoy and thank you for dropping by~)
It's 8am. The alarm goes off and I momentarily freak out.
"Why's the distance from the bed to the floor so much farther? Why did I leave the phone on the ground? Where the hell am I? Who is the guy on the other be- oh. Right. I'm in the hotel for Sakura-Con…"
It took me a few seconds, but I eventually was able to recall the previous day. Once I had gathered myself, I hopped out of bed to take a shower. Shortly after, I went to put in the contacts for my cosplay. I did that first since it always takes me forever to put them on. Perhaps the only "curse" someone with 20/20 vision would have: difficulties applying contacts.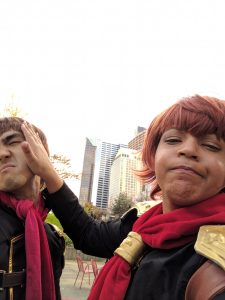 Due to my hesitance to simply even touch my eye, it took me about 15 minutes to finally get both contacts in. At one point while I was trying to put them on, I had muttered "Damn!" as I got close to putting one in but closed my eye too quickly. This was perhaps the one time I actually heard Meta with a sincere voice of concern. Of course, when I told him what it was, the sound of his "Oh" was extremely hilarious. A great way to start the morning! Of course, I later realized as I was putting the contacts in that Eight's eyes were red, not the brown color I had brought with me. Damn.
Once I got the contacts in, I put the FF Type-0 (Eight) on. I initially had a white t-shirt underneath, but the blazer's neck showed too much of the shirt. As such, I decided to take the shirt off and just wear the jacket. With the scarf, I'd stay relatively warm (not to mention I'd also be inside the convention center for a majority of the time as well). The only problem was that I had forgotten to bring boots from home. Despite this fact, I was not too worried. I had planned on going to some of the stores nearby later in the day to search for boots. Seattle's a big city; there's got to be a store with boots I can purchase nearby! I was going to be part of a large cosplay group of other Final Fantasy Type-0 characters and I wanted to remain as accurate as I could!
I did give myself a bit of a scare, however. When I was looking for the braces that you see on Eight's arms, I thought I had only brought one. I began to panic a bit until I realized that I had buttoned the two braces together for convenience. Just when I thought I was okay, I noticed one of the buckles that hold the jacket together had broke. With that in mind, I began to head to the convention center to go to the repair station.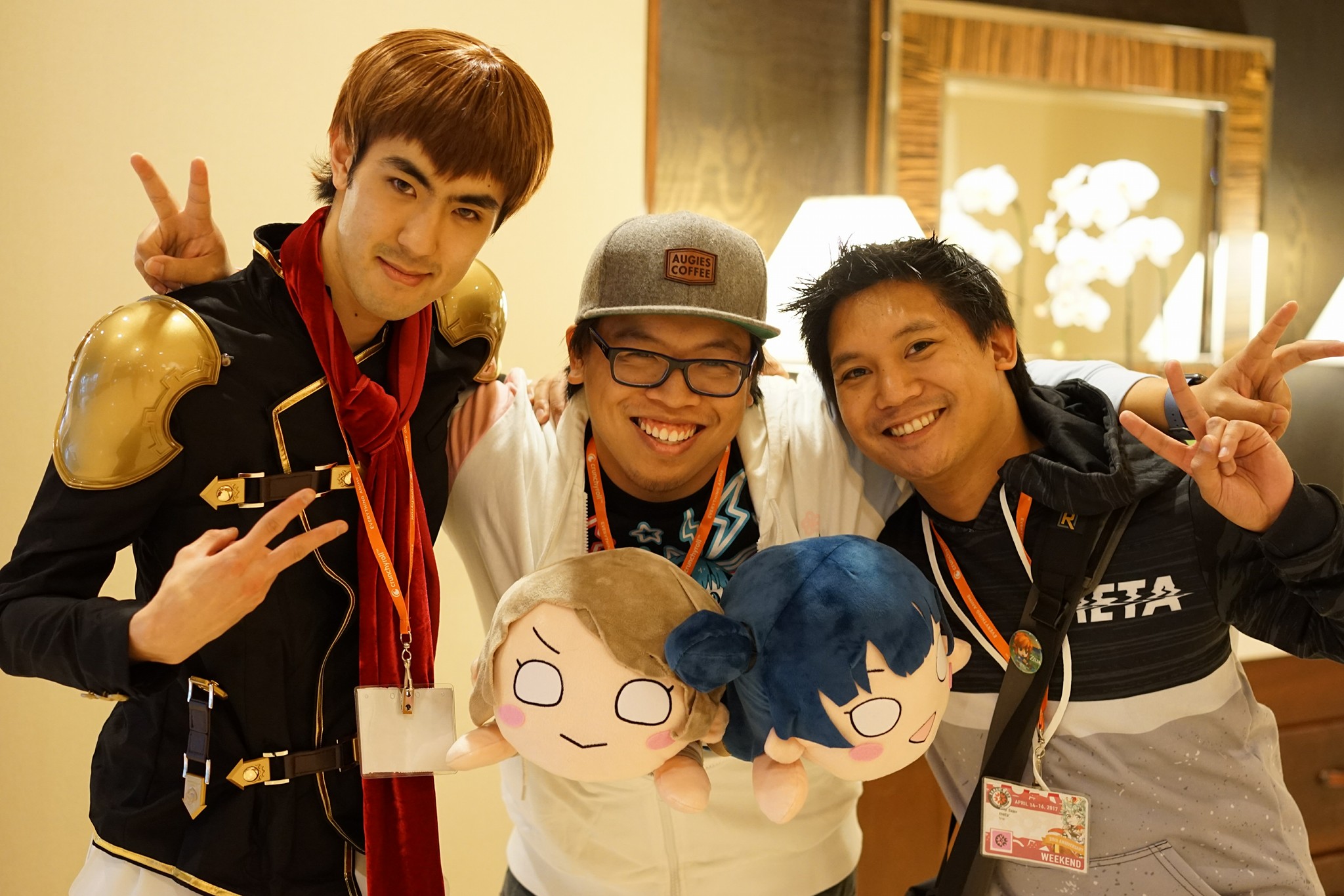 With the help of the staff of the cosplay repair station, I was able to use epoxy glue to hold the buckle and the button together and form a bond. Having finished my first goal of the day, I went up to go to the skybridge so I could enter the exhibit hall as soon as it opened. One of my friends days prior to the Sakura-Con weekend had asked me to see if I could snag a Two-Star Goku Uniform Mako nendoroid from the Good Smile Company store. Of course, I told him I'd definitely give it a shot.
While I was there, I had waited for one of my friends, Ken (aka FulloAnime) to arrive. We hung out for a bit just chatting to help pass the time. Meta later finally came with some water and muffins to help us start the morning.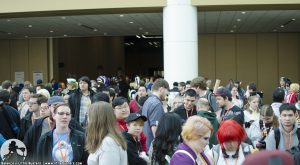 Finally the clock had reached 10AM and the doors were open! Even though my friends and I were decently close to the door, a huge line quickly formed in the GSC booth. It hadn't been perhaps 5 minutes before I was thinking about giving up to go take pictures of cosplayers. Ken then had offered to stay in line and get the Mako nendoroid for me if it was still available. I was super thankful and told him I'd immediately pay him back if he had managed! With a peace of mind set, I went out to finally take pictures of cosplayers.
With the writers still keeping me in mind, I received a message from Ken just about 5 minutes after leaving letting me know the Mako nendoroid had already been sold out. It was honestly a shame and I felt pretty bad I couldn't get it for my friend. Feelings of guilt lingered around for a bit until my friend assured me that it was okay and he had anticipated this happening. Finally after being able to let it go, I continued my trek around the convention for more photos.
Several hours passes while I walked around taking pictures of various cosplayers before I finally met up with the rest of my local friends. One of them was cosplaying as Captain Amari (Ana) from Overwatch while the other was also cosplaying as a Type-0 character, Deuce. We walked around for a little bit before I decided to go take more pictures~
It didn't take too long though to catch up with my friends as there was an Overwatch photoshoot that was scheduled just about an hour after we had met up (12pm). The location it was held was nice, however the weather was just not very cooperative. Within that hour frame, the sun came in and out constantly making it difficult to maintain consistency with the photos. Still, it was a lot of fun seeing all the different people cosplaying as the various heroes Overwatch has to provide! Naturally there were a lot of D.Va cosplayers. What I didn't expect were the number of Soldier 76 cosplayers. They were also quite plentiful!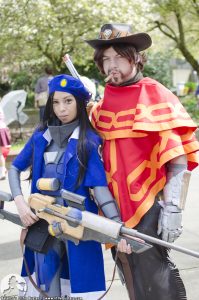 After the photoshoot ended, I went around to take a few more pictures of cosplayers around the convention center. When my camera had indicated I ran out of space in the SD card, I used that opportunity to go back to the hotel. While I had the pictures transferring onto my laptop, I went off to search for boots to accompany my cosplay. I wanted to make sure I got the boots before the group photoshoot at 4pm started.
My first attempt was at a Ross, however I was unable to find anything there. I went to the Target that was a bit further down the street, however that store also did not have any boots. Since I was at a Target though, I made use out of my visit buy purchasing a few items that I knew I would need.
I was determined to find boots for my cosplay and I was not ready to give up! After searching the map, I found out there was a Payless Shoes store just barely 5 minutes away from the Target store. Jackpot! While it may not have been the perfect boots, it was good enough and I made the purchase~ I looked at the time and saw it was only 2pm. Seeing that I had extra time before the photoshoot was to begin, I went around sneaking a few more pictures as much as I could.
On the way to the Atrium of the convention center, I found another Final Fantasy Type-0 cosplayer walking to the same destination. After speaking with him, it turns out that everyone was supposed to meet at the atrium an hour prior to the photoshoot so we could walk around together as a group. So as we waited, more and more people began to gather. As our group began to grow larger, more con-goers were getting interested in our cosplays. When there was a sizable amount of us together, people began to ask for pictures. Since I know firsthand how difficult it is to take pictures of a group of people, I directed everyone on where they should stand and to get much closer together.
When the person who organized the cosplay group, Eva, finally arrived, she began to hand out some poster prints she had purchased for us all. They were commissioned art of all the characters of Class Zero from Final Fantasy Type-0 (by Rex Evabonita)! Not only that, each one had one individual picture of our own character in a bigger size. Needless to say, it was very kind of Eva to have given us the art!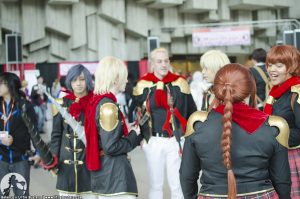 Time passed by quickly as we got to familiarize ourselves with each other in person for the first time (while letting people take a picture of our group). It didn't take long before 4pm began to creep up. Since Eva had booked several photographers to take pictures of us, we began to head to the spot Eva had reserved for us.
It turned out that the photoshoot was going to be 2 hours long which had surprised me. I had forgotten the photoshoot was private and was accustomed to the usual "photoshoots" that are held by other Sakura-Con attendees. It was an interesting experience having such an extensive amount time taken of our pictures taken as a group (and my own self in individual shots). We had initially started with a few group shots (as we were still waiting on a few other cosplayers of different characters) before eventually splitting up to groups. There were about four different photographers so we let them decide from time to time what to do with each of us.
Each time I had checked the time, I was honestly surprised. I had expected an hour passed by when in reality it was only half an hour. When I told everyone else, they too were shocked! I was just glad I wasn't the only one who felt like they were going crazy!
After most of the photographers had gotten pictures taken of all the individuals and small groups, we regrouped so we could recreate some of the in-game poses. Some had to be improvised due to the area we were at, but it was all really fun! As someone who's usually behind the camera, it was rather exciting to be part of a larger picture (in almost quite a literal sense)!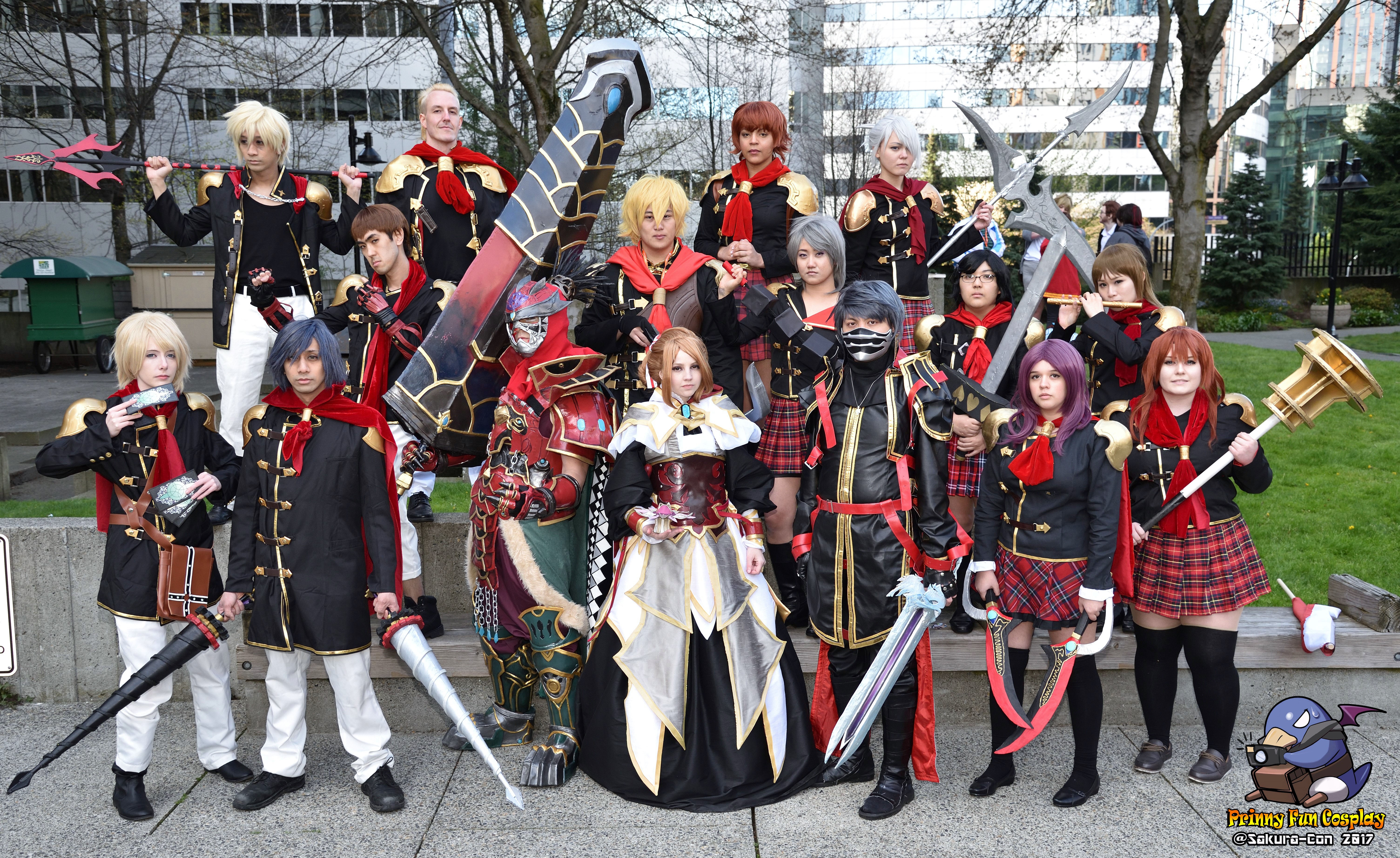 Finally the photoshoot had been done and one of the photographers had gotten all of us some cookies to eat after spending an hour and a half practically working. After I had gathered my stuff together, I was about to leave until one of the photographers came back saying I had been nominated to be the subject of a picture he wanted to do. One of the characters from Final Fantasy Type-0, Gilgamesh, is known for choking people and slamming them down. The first thing I thought, "Of course, he chose me because of my eccentric personality, ability to pose well and OF COURSE I'M THE FREAKING CARPET. I NATURALLY WOULD BE CHOSEN TO BE THE ONE WHO GETS CHOKED." It was still fun though so I obviously didn't mind ahaha. Turns out the photographer's reasoning was the fact Eight is a melee fighter. Whilst everyone else typically fights at a distance, Eight is usually much closer. Still didn't make me feel less carpet and less disdainful of the writers, but I still laughed in the end~ (By the way, you can find the rest of his work here)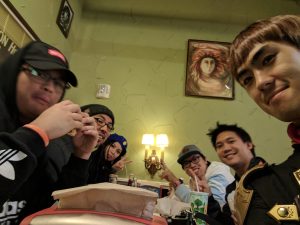 Now that I was REALLY done, I asked the gang if they wanted some dinner. Jack, his brother, Leyzee, Ken, Meta and I were the people who were available at the time so we decided that we would go to the Potbelly Sandwich restaurant. After we went to our hotel rooms to drop off our stuff, we went out to head to the restaurant.
Upon finishing our dinner, we all went back to our hotel rooms to gather our belongings again. Ken, Meta and I hung out for a bit to rest up before heading out. When it got to around 7:50pm, we all decided to leave. Ken and Meta were planning on going to an Idol panel that was to be held by the infamous Anime Weed Lord. I brought my Persona 5 collector's box as I had just discovered before leaving that Matt Mercer's autograph session was going to be held at 9pm. Since that was late enough for me to be okay with wasting time, I thought it appropriate.
Lines for autographs don't queue up until 30 minutes prior to the scheduled time and I was at the convention center at 8. I could tell there were a lot of people who was looking forward to getting Mercer's autograph as there was a huge huddle of people near the entrance. I killed time by waiting near the entrance while taking pictures of more cosplayers (gee, what a surprise). I suddenly noticed the huge herd of people moving and that was when I moved in along.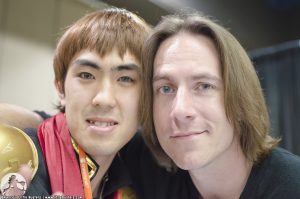 I was rather fortunate at that time for several reasons. For one, I was near the end of the line when I had realized that they capped off the line. The moment I discovered they actually capped the line, Leyzee had sent a message asking if there was still more room. At least there would be more opportunities in the weekend! Secondly, the line was actually moving slowly since Mercer allowed for one picture with him along with the one autograph. Despite it taking more time than the schedule had allotted, he ensured everyone that no one would leave without an autograph from him. The time slot for his autograph was from 9pm ~ 10:30pm. By the time I finally got his autograph, it was 11pm. I still believe it was worth it as he seemed really shocked and excited as I gave him the photo I printed for him to keep~
At that point, I was tired. So naturally I went straight back to the hotel where I saw Ken and Meta just hanging out. It turns out that they went back immediately after the panel they attended had concluded. We passed some time before Ken finally decided that it was time that he left to go back to his AirBNB. And now I'm here quickly typing this out to make sure I don't forget anything. It's 2:21 and I'm tired. Good night, and have fun reading the next post. I'm sure I will be a lot more comfortable with the cosplay I have for tomorrow!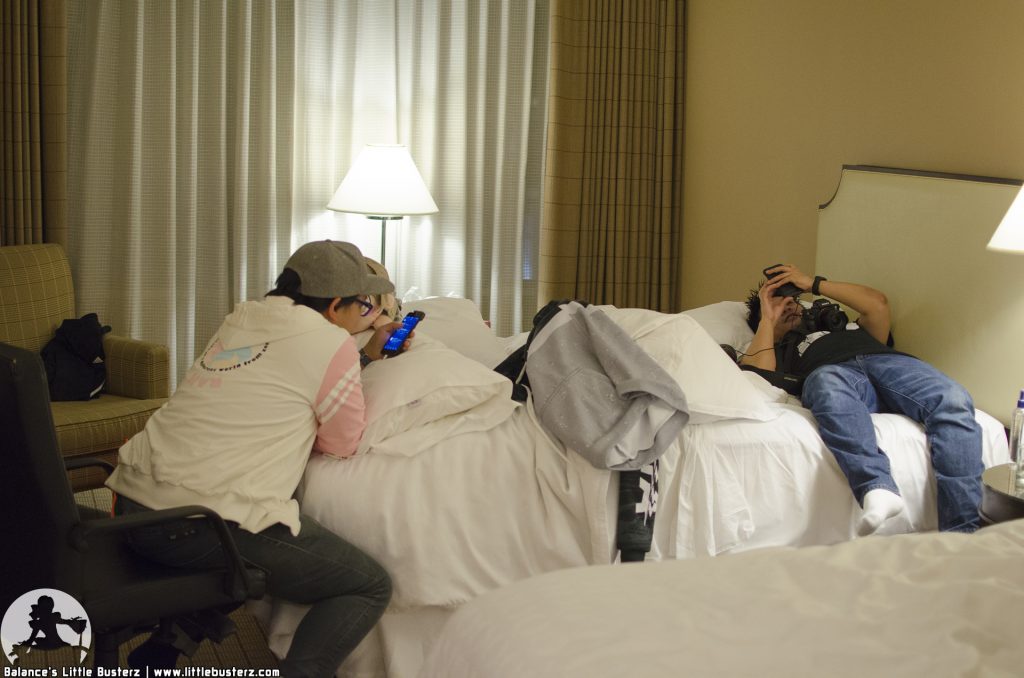 Man, @fullOanime decided to leave some of his merch in @metanyani and my room. It's kinda creepy knowing she's watching me type my blog post pic.twitter.com/HDLGB7GhNE

— Balance (@igfxbalance) April 15, 2017