(Note: These entries are written on the night of. So even if they don't reflect on the date these entries are published, it's because they aren't meant to and supposed to be in regards to that specific day. Hopefully that will help avoid confusion as you read this! Enjoy and thank you for dropping by~)
What a way to get started into the Sakura-Con weekend! The Writers who constantly try to ensure my life is as horror as possible has definitely made their presence clear to me today! You must be confused so let me start from the beginning.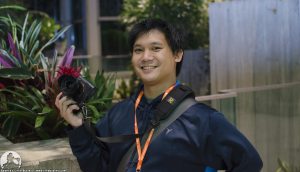 So the night before, I slept at 2:30am (I guess technically that's the day of) and managed to wake up around 6:30. I chose this time because I knew my friend, Meta was going to arrive at the airport at 8:20ish and I know that it usually takes me around 30 minutes to get to the airport from my home.
So of course, I begin to pack everything for the con whilst also texting everyone else that was planning on going to the con. During that time, I asked Meta if he was either okay with waiting for me in Seattle to do my daily errands or joining me for those errands. After a bit of contemplation, he decided that it'd be fun to hang out with me as I went around doing errands. With that decided, I went about packing up a few more things.
I ended up having to bring three bags with me: one for clothes, one for photography related items, and one for hygiene products. I also made sure to clean the car before I would head out. I managed to finish with a good amount of time to kill. I used that time to clean the driveway a bit and play with the dogs for a little while before I would eventually leave to go pick Meta up.
Joel had already informed me he was going to arrive at Seattle way later in the day so I made a note to myself to not worry about picking him up too.
On the way to the airport, I found myself too focused on something that had been on my mind and I missed the exit to get to the airport. Thankfully there was a way to turn around and get back without losing too much time. When I got into the parking garage, I had a difficult time finding a parking spot which was a first. Interestingly enough, Meta's flight landed perfectly fine, however they were unable to move forward due to a tow bar haven been broken. After perhaps five minutes later, the plane finally moved again to dock and inevitably release poor Meta into the world. With coffee ready for him, we went out to go back out so I could do a few things to help my father out while I'm in Seattle.
The first order of business was to pick up my AmiAmi package. Just the night before, I had received a final notice slip in the mailbox. I would only have until Saturday to pick it up. Since I would obviously be busy, I figured I would at least first get that out of the way.
Next, we went to the Business Costco to pick up a few pastries so that we'd have something to eat when waking up. I got some Berries & Cheese Danishes while I had Meta pick out whatever muffin he wanted (he ended up choosing frosted coffeecake). Due to the fact I almost never go to the normal check out lane (as I'm always go through the tobacco cage), I received a few confused looks from some of the employees I've come to know over the years. It was kind of funny having that exchange between the employees and I as I explained that I was going to be gone for the weekend~
After I had finished what I was doing in Costco, I went to go to the store to introduce my father to Meta and vice versa. I wanted to get something for my father to eat since he was going to be tending to the store by himself. I really do owe my father a lot for covering for me and this was the very least I could do for him. He had requested for me to get him a Subway sandwich after I had asked what he would like to eat. Considering it was not too far away, it didn't take long before shortly returning to the store.
There were still other errands I had to attend to so I went off to make a deposit to one of my business banks. Unfortunately I that particular bank account was still low after making the deposit. To ensure it would stay in a better standing, I had to go all the way back to my other bank (a 15 minute drive), grab a cashier's check (as I had recently run out of checks to write), drive all the way back to the first bank, and make that deposit.
It was just slightly frustrating as I had actually noticed we received a shipment of checks… but it was for a different bank that we used! That particular packaged I had specifically chosen to do normal shipping and paid nothing extra as I did not need it. The checks that I did need were ordered with expedited shipping. Despite this fact, the free shipping package came first. What a life.
Interestingly we were doing fairly well on time so I decided instead of going to Seattle, we can mess around in Federal Way. I actually had needed to pick up a wig from the hair salon I often frequent. After I had picked that up, we both ate at a ramen place called "I Love Ramen". It was around that time I had noticed one of the tweets he had put out sometime recently.
.@igfxbalance He's like Tohru in Maidragon where litterally everyone in all the shops we visit knows who he is. I'm like "uwah…."

— meta`@Sakura-con (@metanyani) April 13, 2017
I had actually found the tweet rather interesting considering it had never occurred to me just how the relationship I have with all these different people in different businesses would appear to someone else. In any case, I like to think of it as a fun perspective to think about.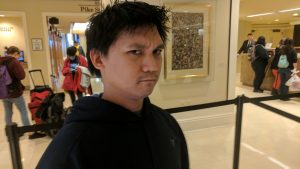 When we had finished our meal, it was around 2:30pm. We, along with some other friends, had actually agreed to eat KBBQ at 4:20. However my other friends were waiting on one of their brother to finish some duties that he had to attend. As such, the actual time we were looking at was somewhere along 5pm. Thinking that we would have time to go to Seattle, check into the hotel and come back, I went off heading into I5 not knowing the horror I would shortly experience.
The time it took to carry our luggage and other items into our room was rather quick. Considering we had been on the road for quite some time, we gave ourselves the chance to rest a bit before heading back out to meet everyone for KBBQ. When the clock had read 3:50, I knew it was time to begin our journey back south.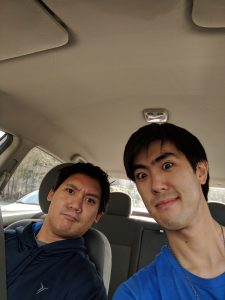 To our ultimate dismay, it turned out that not only was there going to be some massive traffic going I5 South (as this was normal around the time we had left), but there had apparently been an accident. As a result, instead of what would have taken normally 50 minutes to get to Federal Way from Seattle, it took two hours. It was embarrassing for me considering one of my other friends, Ken (aka FulloAnime) had arrived at the destination before we had. A full hour before we had.
While we were still stuck in traffic, Leyzee, Carmina, and the rest of the gang were about ready to head out to the KBBQ restaurant while Ken decided to walk around and explore the area. During this time, I was lamenting at how unbelievably hapless I was to be experiencing so many detours and bumps I had to go through.
In the end, it all ended fairly well with us picking up Ken from The Commons Mall (as it had started raining and he did not want to get himself wet). Leyzee & Gang were already in the restaurant by the time us three had gotten there. They were all apparently fairly hungry at that point (understandably) and had started before we got there. Despite all the horror, I like to think we all had a great dinner with me introducing Ken to the gang and getting to meet Jack's brother.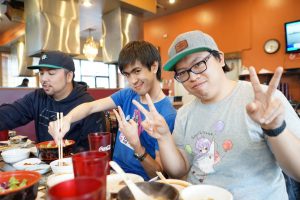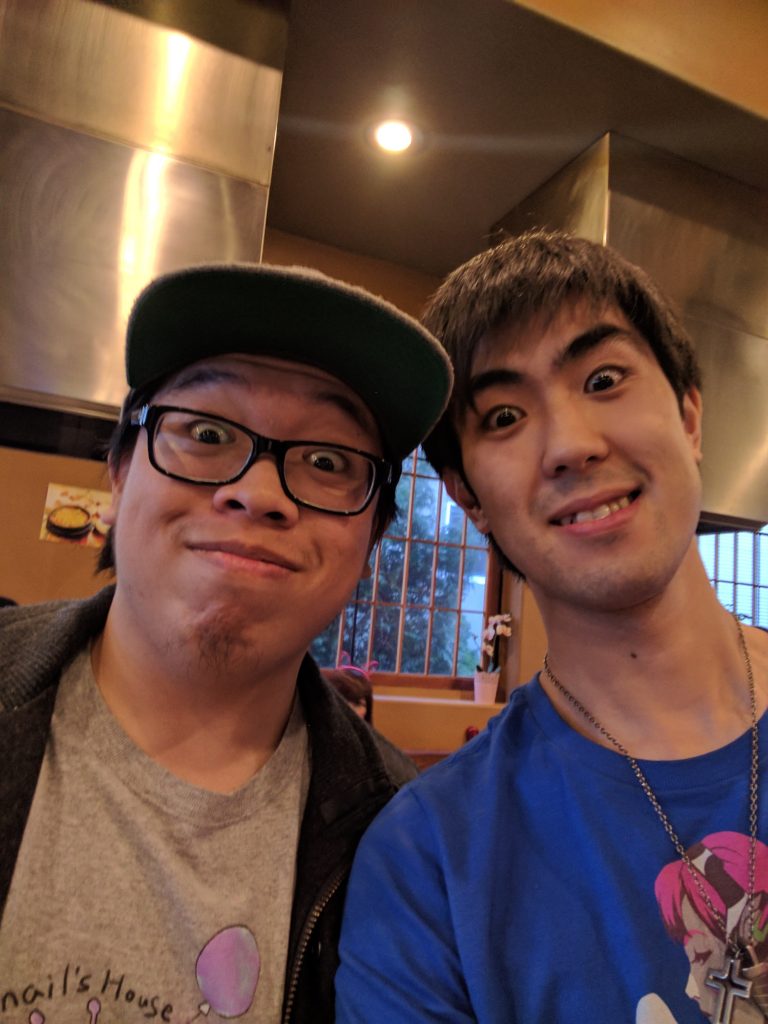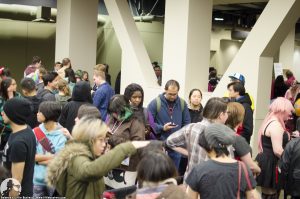 With so little time left before the doors would remain closed, we quickly left to go back to Seattle to pick up our badges. The lines were MASSIVE when we had gotten there. Thankfully the lines moved at a fairly reasonable pace and we managed to get our badges around 9:10ish.
Ken on the other hand was not as lucky as he had to actually register. Poor Ken.
Around that time, Joel had sent me a text telling me he would not be able to arrive until the next morning. Seems like I was not the only one suffering!
The night was then spent with Meta and I walking around the convention center waiting for Ken to finish. When he did, we walked him around while showing him typical spots for photoshoots and ideal places to take pictures of cosplayers. Since Ken was waiting for a friend of his to arrive at the AirBNB they had booked, he joined us in our hotel room. We had a good time chatting amongst the three of us until it reached to the point where Ken had to leave.
With excitement running through my mind, I typed everything down into the blog in hopes my future self would not be hating my past self for the horrid writing I put down in the draft. Ready for the next day, I got myself comfortable and bed and drifted into sleep, only being able to imagine what would come next.